Gail
Based on the glowing reviews we opted to have ATG as one of 3 bidders for our remodeling. Because ATG has a showroom and warehouse; I didn't expect ATG to come in with the most reasonable and comprehensive bid-but they did! Nick is the project manager for ATG and from the time he came out to measure for the bid in March until completion just last week; I have really enjoyed his humor, willingness to take all our questions, concerns and anything else that came up with integrity and humor. His managing of demo, haul away of debris, sheetrock and insulation, construction to replace wet/rotted wood in all three shower/bathrooms, plumbing, electrical, tiling, install of cabinetry, trim, bath lighting, fixtures, painting, quartz countertops and undermount sinks, etc..etc..was masterful. After accepting ATG's bid, I visited the ATG front office and worked with Natalia (sp?) choosing and ordering materials and cabinetry. I highly recommend ordering ATG countertops, tile, undermount sink and cabinetry from them. Beautiful selection of high quality. I spent approximately 2 hours with Natalia. She went above and beyond to make sure I was happy with my choices. Liliya made sure all my selections were in stock and available. I even got a tour of the showroom and warehouse! Taras, the owner, came out several times to check on our projects and suggested a better seal and brace for my existing undermount sink installed 12 years ago! At that point, we decided to add retile of kitchen floor and entry landing to our bid and again were pleased with the offer. The ATG employees were polite and respectful of our home. We also have to say a special thank you to the craftsman, Dimitriy, who not only tiled both our showers and floors, kitchen floor, front entry; but also designed and tiled our guest bathroom. He takes great pride is his work and made sure we were pleased with all of the work done in our home. I would recommend ATG to anyone who wishes to get MORE than their money's worth!
Work description: Demolition and complete remodel of 2 showers and 1 bathroom, demo and retile of kitchen floor and entry landing, reseal and rebrace of kitchen undermount sink.
Gail Pisia
Federal Way, WA
$16,000-$23,000
Excellent Experience! Liliya and Natalya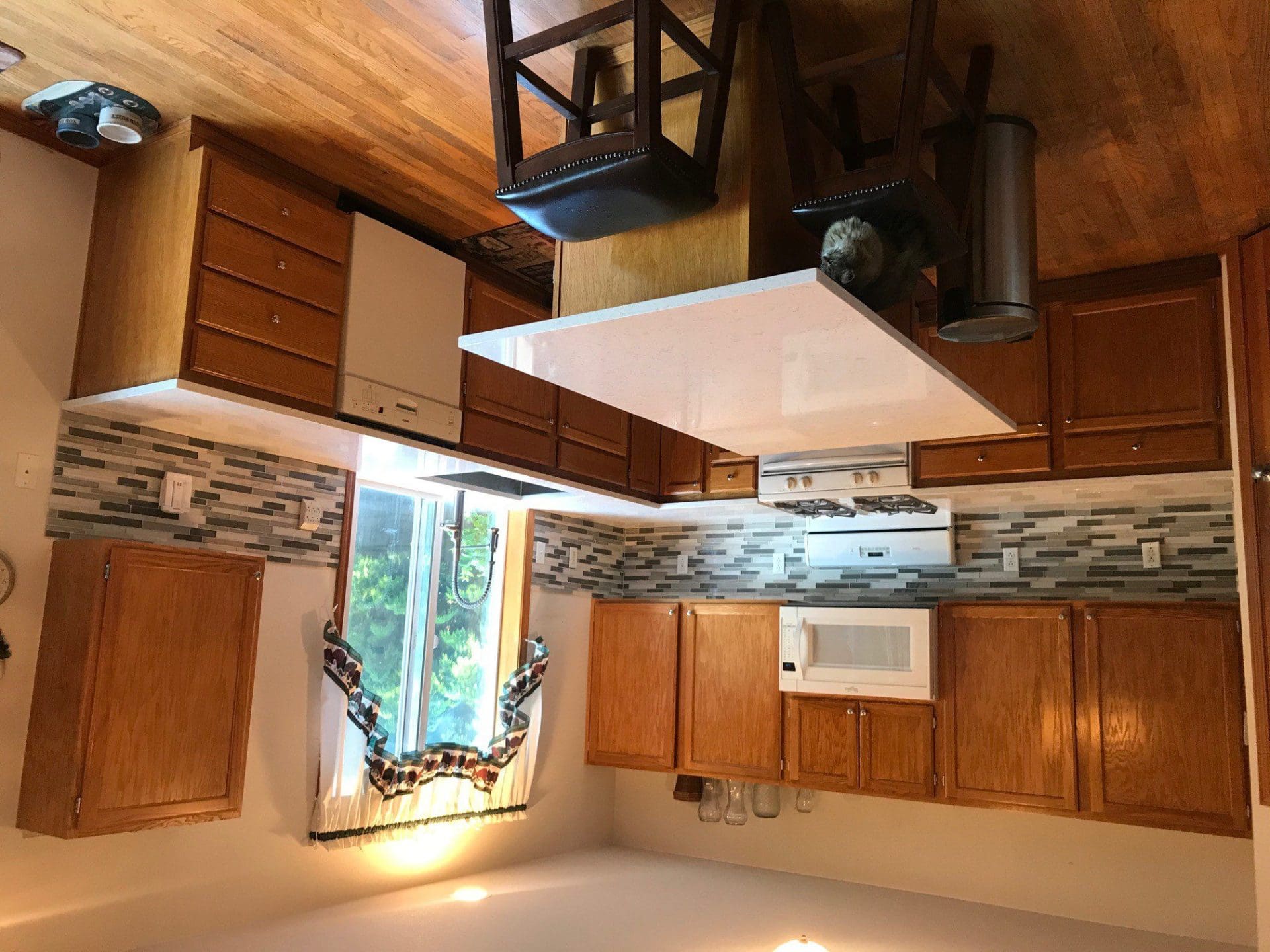 Excellent Experience!
Liliya and Natalya were great. It was Liliya with whom we worked the most, and from day 1 when we first met and she showed us options for our kitchen counter, she was fantastic. We were clear to let her know our general thoughts and goals about the project, but we wanted to her to be honest about trends and her opinion based on her experience. She provided the input we requested, and she nailed it!
She was also very patient. We started email communication immediately, and I kept her up to date with work I was doing with our kitchen cabinets. With the arrival of the pandemic and all the issues and delays from that, from start to finish, it was a while before we could actually schedule the site assessment and installation of the counters. Once we got the ball rolling, it was a quick process.
The installers were awesome. It was necessary for one seam in a long section of counter. Mike, who is a 'seam artist,' was the "Bob Ross" of mixing colors, and he did a phenomenal job. I doubt anyone will notice it unless they know where it is.
We chose to do a back-splash with tiles we purchased several months earlier; however, they have a great selection of tiles in their showroom. While I chose to do the demo of the kitchen and install the back-splash myself, they could have performed those tasks as well.
Everyone involved was professional and clearly took pride in their consultation and their work. My wife and I would not hesitate to have them do more work for us. I would also say that they give excellent advice, and we chose to listen. That was wise, and as a result, we have transformed our kitchen.
Michael Gordon
Puyallup, WA
$4300 for Quartz Counter and Installation + $500 for new sink and faucet.
William
The estimate arrived promptly, based on some message exchanges and some photographs. The demolition crew arrived, and did a careful job of removing the old baseboard and vinyl flooring, laying the new backing board, and cleaning up afterward. Dimitri, the tile setter, then arrived, and was very cooperative in laying the tile on the patterns we requested, including randomizing the various colors of the travertine tile we used in one bathroom.
Work description: Installed tile floors in two bathrooms.
William Earl
Burien, WA 98146
$12,000
James
From office staff to plumbers and electricians, all the workers were professional, friendly, courteous and knowledgeable. Only the best quality materials were used. And everything was beautifully coordinated.  I was especially pleased with  Dimitri who did most of the work on my project. He worked to customize my 1950's era spaces with all it's quirks and awkward corners. His work with tile and drywall was great. No time was wasted and the finished product was neat and clean. I would be happy to recommend AT&G to anyone.
Work description: We started with a skylight, then gutted the bathroom. Got rid of the tub and replaced it with a walk-in shower and new fixtures.  I needed a lot of drywall repair and replacement in the bathroom and also the kitchen along with texture, painting, and trim.
James Reeder
Edmonds, WA 98026
$15,000
Barbara
From the first call to Natalia(she is a wonder in handling all the appointment setting,escorting people around the showroom to select tile, giving accurate estimates within 1-2 days) I was given an appointment within two days to have Nic come out to look at our layout,take measurements(very thorough) and let me know they would have an estimate for me within 48 hours. I actually received it sooner than that with a complete breakdown of each cost itemized. We did a bit of the tear-up ourselves and they deducted that line item from the cost. From the time we decided we did want to have them do the work, Nic was back out making templates and re-measuring within the next 24-36 hours. Next Stop: I drove down to the showroom and Natalia was able to help me pick and choose(then pick and choose a couple of more times before I came to exactly what I wanted. She was patient, professional and most helpful as well as serving with a willing smile. Work was done on schedule (about 7-10 days). Worked steadily and took a short lunch…then back to work. No messing around . Granite slabs were cut and polished at the showroom area,so no dust or dirt. The tile was cut on a wet saw in our garage and it does have some dust residue that gets on things,so we covered with old sheets. It still leaves "tile dust", but that seems fairly standard for custom tiling. EVERY OUNCE OF THAT DUST WAS WORTH IT….IVAN DID SUCH A GREAT JOB OF ALIGNING THE TILES AND SPENT GREAT CARE TO MAKE IT LOOK JUST LOVELY. He is a wonder! Very positive experience with this company. I would definitely use them in the future.
Work description: We had five bathroom sinks replace ( from them-really happy with the rectangular undermount style) Also Granite countertops for our kitchen island,back counter in the kitchen, countertop for downstairs powder room;master bathroom double sink granite countertop, 2nd upstairs bath in granite double sinks as well. Efficiently done and a really lovely finished product throughout the WHOLE project.We also had master bath floor tiled as well as the 2nd bath tiled and laundry room tiled. Ivan, the tile installer did a Fabulous job of aligning and grouting the tiles. He checked with us all the way through the process to make sure we chose the grout color we preferred. Also had an undermount farm style sink (black onyx) installed included in the price.Also included in the price was a 2 ft x 4.5 ft granite countertop across from our dining room. Can be now used as a serving area.
Barbara Carpenter
Renton, WA 98058
$14,000
Margie
Atlantic Tile and Granite has done at least four projects for me, in three different homes, in the last five years. They are professional, timely, reasonable, fairly priced, helpful and knowledgable. I have recommended them many times. They worked with me on a challenging fifties fireplace remodel. I was extremely pleased with the result. They are a pleasure to do business with because they care about the quality of their work and your satisfaction. Project costs ran from $2000 to over $15,000.
Margie Johnes
Bellevue WA
$37000
Pamela
We are very impressed with their entire staff we dealt with!! The results are better than imagined. Very professional, extremely knowledgeable, perfection where it counts! We will use their services again!
Work description: Tear out tile counter tops/backsplash. Install new granite and subway tile backsplash.
Pamela Matthai
Issaquah, WA 98027
$6,500
Adam
They worked very quickly (2 men approx, 3 hrs) for full demo and replacement, including a new gorgeous stainless sink. They laid out blankets over all areas that they walked through and vacuumed up all dust and debris from there work. Everything was explained to me ahead of time so there were no surprises. Most importantly the end result looks amazing! Still need to put in my back splashes but after that is done i will try and share pictures of before and after.
Description of work: Replaced counter-tops throughout kitchen as well as in the powder room and guest bathroom.
Adam Wood
Marysville, WA 98270
$3,000
Jodi
Atlantic Tile and Granite did an excellent job. They removed carpeting and laminate from my master bathroom floor. I went to their showroom and picked out a modern tile which they installed beautifully. One of the tiles ended up having a defect in it and we both noticed it on the 2nd day during grouting. I asked that it be replaced with one of the leftover tile and they took the time to replace it. I was afraid I'd be able to tell that they replaced it, but couldn't. Looks flawless and really updated the look of my master bathroom. I'd hire Atlantic Tile and Granite in a heartbeat again and I'm a picky customer.
Work description: Rip out old carpet and laminate flooring from master bathroom and replace with tile flooring.
Jodi Paine
Duvall, WA 98019
$3,000
Rosie
My husband and I recently finished remodeling our small kitchen through Atlantic Tile & Granite. I feel compelled to leave a glowing review given how happy we are with how it turned out. The process was extremely fast and smooth from start to finish. Nick, the GC, is a pleasure to work with. He was able to schedule his crew in quick succession which moved things along. Everyone was great and did quality work. There were some tricky issues that popped up in our old house and they were able to come up with perfect fixes that did not cost us a fortune. We thought the price was fair and was well below many of the other bids we received. Overall, we are extremely pleased with how everything worked out and highly recommend Atlantic Tile for full kitchen remodels.
Work description: Full kitchen remodel
Rosie Funk
Kent, WA 98032
$30,000
I've used Atlantic Tile and Granite for all of my projects. We just finished kitchen/bathroom number three and moving onto our fourth project. I've used two other companies before I found this one and wow! What a difference. Nick is always on time and can answer any questions you have. Nataliya is helpful when trying to pick out granite over the phone by sending pictures of what is in stock. There are no "seams" glaring out and the granite looks beautifully showroom polished when they are done. I won't go anywhere else and after you use them, I doubt you will either!
Work description: All of our projects (mostly apartment remodels) have a kitchen and two bathrooms; one bath with a double sink. Some, such as the current unit we are remodeling, have a fireplace hearth that needs replacing as well.
Property Manager
Seattle, WA 98105
$5,000
Sandra
My contact came to the house with various samples and was quite patient as I agonized over all the colors and styles available. I made a tentative decision and later ended up changing both the size of the cooktop island and the color after going to the warehouse in Kent to make a final selection. I had decided to make the cooktop surface both wider and longer to allow the use of bar stools underneath; this was no problem and was cheerfully incorporated into the template, along with the necessary extra support. Very precise and careful measuring done to create template prior to cutting of granite. Came when they said they would, did an excellent job; I asked them to provide contractors to handle temporary removal and re-installation of gas cooktop, as well as plumbing related to sinks and dishwasher. Dimitri did a beautiful job installing the backsplash and I enjoyed his sense of humor as well. I also appreciated that when the dishwasher initially didn't work correctly after the installation was complete, my original contact came back out and diagnosed and fixed the problem immediately.
Work description: Removed tile countertops and white kitchen and bathroom porcelain sinks; installed new sinks, granite countertops and backsplash in kitchen and bathroom.
Sandra Oliver
Redmond, WA 98053
$2,300
Johanna
We are very happy with the service we received from Atlantic Tile Granite. Nick was extremely helpful and went way above and beyond to make sure we got the best quality service. We had a project that we needed to get done pretty quickly and he was very accommodating to our schedule. When it turned out the cabinets were not ready in time for our measurements appointment, Nick committed to showing up late in the evening the next day to get the measurements completed in time. Still, he did not compromise on the quality of the job and stayed until making sure all the measurements were correct and all the details were ironed out. In addition to this, before leaving that night, he offered to help my husband move one of the cabinets into place! In addition to his help with the purchasing, scheduling and measurements, he also helped us when we could not find prep sink for our island. He ordered us a very nice sink for only $89! Talk about great service, these guys are awesome!
Work description: Installed new granite countertops as part of a kitchen remodeling project.
Johanna Hawkins
Renton, WA 98059
$5,000
Kat
I first discovered this company through a coupon for granite countertops. I manage an apartment building in Seattle and wanted to upgrade from melamine to granite. The company I used before finding Atlantic Tile & Granite made life very difficult for the contractors, the handymen and myself. There were too many demands and they "didn't do that" when it came to corbels or seams or backsplashes. Atlantic Tile & Granite does it all! And, it's not just "done"…..it's done to perfection! I even hired them for my own home….there will never be another company I hire besides these gentlemen. The reviews I get from my contractors and tenants have been nothing short of exceptional. Just when I think I know what the end product will look like, I'm wowed! I would recommend this company over and over again. I just hope they'll still have room for me on my next project. Hire them….you will NEVER be disappointed.
Kat, Seattle WA
$14000
Brian
They were very pro-active from the start in setting up the consultation appointment. It took less than two weeks for them to cut/fit the new granite and schedule an installation date.  They were punctual and professional. And they were very good about managing expectations around pricing, delivery, etc. They are very skilled at installing counters, and tiling.
Work description: Removed old kitchen counter, cut and installed new granite kitchen counter, installed new sink, installed wall tile.
Brian Dempsey
Redmond, WA 98053
$4,000
Annette
Price is right, their work is professional, staff is great, and the project was completed ahead of schedule. Just a few small miscues, but normal in any project. This is the second project we have had them do and are very happy.
Work description: Complete remodel of a small kitchen (approx. 10 x 10). Cabinets, counter, back splash, and floor.
Annette Grimm
Seattle, WA 98199
$15,000
Trevor
It went fantastic. Natalya answered all of my initial questions in a very timely manner and kept me in the loop on the schedule, etc. Nick was fantastic, he came to do the measurements, but the appliances hadn't arrived yet, so he said he'd come back a week later, but that it wouldn't change the install date which was critical for me! I'm glad that we waited on measurements as I had to shift everything over to ensure that the dishwasher door on one wall didn't hit the stove which stuck out a little bit beyond the cabinet depth on the perpendicular wall.  Nick came back a week later and made the templates and then they were fabricated exactly as we wanted. The install team came in and spread tarps on the floor from the door to the kitchen and in the kitchen, and kept everything clean. They had to move the fridge to line up the countertops and install them properly, which left indentations on the new vinyl flooring, with a little know-how, they made it virtually unnoticeable.  All-in-all a great experience … and now we don't have to do our dishes in the bathtub anymore that we hooked up the sink (which was included with the countertops). Thanks to the whole team!
Work description: Measured and installed quartz countertops in the kitchen.
Trevor Partap
Bellevue, WA 98006
$3,500
Nicole
I had new cabinets installed to add a peninsula in my kitchen next to the existing cabinets. The installation was planned out and carried out in a way to minimize the difference between old and new cabinets. The work was top notch. Everyone was polite, punctual, and easy to get a hold of. I highly recommend them!
Nicole Bazzetta
Federal Way, WA 98023
$900
Jan
Tomas was very easy to work with. He would quickly return calls and worked with me in keeping the price down. There were no surprises with the final cost. He has talented people working for him who were on time and cared about their work. I am a picky perfectionist, and all of his subs completed the job to my satisfaction. If something needed a touch up or an adjustment, they did it cheerfully. All in all, this was the best experience I have had with a contractor.
Work description: Tomas and his subs remodeled the entire bathroom with the exception of the bathtub. The remodel included two sinks, toilet, new shower and glass shower door, all plumbing, tile floor, tile wall in shower area including decorative glass tiles in shower area, new vanity, backsplash and granite counter, new paint on walls, ceiling and doors, new baseboards, and installation of 2 new light fixtures.
Jan Ball
Sammamish, WA 98074
$8,000
Jennifer
It was quite expensive, considering the cost only included labor and the glass shower wall, which was $21K. We paid separately: all tile, Quartz counter top, vanity, toilet, all plumbing fixtures, all light fixtures, paint, mirrors, etc., which totaled $6K, with discounts on nearly every purchase. Despite, the cost, they did a truly fantastic job! We really could not be happier with our new master bathroom! They were responsive, timely, and communicative. I would definitely hire them again and I definitely recommend them!
Work description: They did a complete master bathroom remodel. This included relocating a toilet, adding a shower with two shower heads, changing from 3 vanities to 1, and installing tile and glass.
Jennifer Troyer
Seattle, WA 98126
$21,000
William
Very nice, professional and accommodating people to work with. Everything was done exactly as we had agreed, and the finished product looks amazing. Completely transformed a very large kitchen
Work description: Remove old countertops and tile backsplash, fabricate and install new granite countertops and tile backsplash.
William Birch
Lakewood, WA 98499
$5,800
James
The folks at Atlantic Tile and Granite were wonderful to work with, from Natalia at the front office, to Nick who did they measuring and template, to Alex, Uri and Jack, the installers. All very professional and responsive. We visited the showroom several times and Natalia was very patient with us.  All were very knowledgeable about stone  installation.  The installers covered the floors in our home before they started and then cleaned everything up when they left (about 4.5 hours later. We're very happy!
Work description: Atlantic Tile and Granite replaced our kitchen counter tops.
James Lockhart
Kent, WA 98042
$2,900
My wife and I have
My wife and I have just completed separate projects with Atlantic Tile and Granite: two bathrooms, bedroom, kitchen, replacing all flooring, and a new railing.
Everyone that we have worked with has been exemplary! Thomas, Dimitri, and Nikolai were particularly amazing.
They started promptly, and were here every day to completion. All projects were completed in remarkable time. The quality of the workmanship was "old school craftsman". The price was very reasonable, and everything was within budget.
We strongly recommend Atlantic Tile and Granite without reservation. We have referred family and friends to them, and definitely will do business with them in the future!
Joe Sinnitt
Tacoma
Garett
Fabulous, just fabulous. Great advice. Great service. Great price. We couldn't be happier. The crew was especially good, careful measurements and templates, cordial, friendly and went out of their way to make any minor adjustment that we asked for.
Garett
Issaquah WA
$11,000
David
I am so pleased with my experience with Atlantic Tile and Granite. I needed granite countertops and tile backsplash for my kitchen. The master bath required Granite counter tops and extensive tiling for the Shower, tub surround and floor. Everyone I came in contact with from AT&G were wonderful. In particular, Nataliya was always available to answer my many questions, help with picking out materials and coordinating the activities. Dimitri did a fantastic tile job. He was very careful in laying out the tile so the different sizes and shapes flowed beautifully. He also was patient with me because I had many questions. The end result is a beautiful kitchen and master bath. My neighbors and friends all said "wow" when they saw the finished project. I also appreciated that I was told beforehand where we might have some problems and extra costs. Fortunately, it didn't occur but I was prepared in case it happened. I would not hesitate to use this company in the future.
Work description: Tile and granite for kitchen and master bath remodel.
David Cohen
Lynnwood, WA 98087
$19,000
Julie
I am very pleased with the company and their product. Be sure to discuss where you want the seams to go when he is making the template. He was very open to working with my preferences , and moving it to a less conspicuous area. I also had them try the faucet in the hole before they finished, which was a good call. The men were able to make a few minor adjustments to make sure it was a good fit. Very helpful!
Work description: I used a coupon for granite countertops. I upgraded a few items which were clearly discussed and outlined in my contract. The office help was wonderful in getting the contract drawn and delivered, with no hidden costs or fees. The men arrived on time to remove the old countertops and install the granite. (demolition was included as well as backsplash, sealant, and a beautiful large sink). I need to hook up the sink, but that was understood in our agreement. Excellent service and product!
Julie Weber
Lacey, WA 98513
$24,000
Shelley
This is a first rate, professional team. I would hire again….they truly take pride in their customer service and craftsmanship. From the selection of granite and quartz, measurement and installation, their team was on your side, ensuring all aspects of the job were understood. Natalia was very helpful in the selection process. Nick's measurements were spot on.  And, Yuri and Alex (installers) did a magnificent job of the installation. Great team…..thank you so much. Love my kitchen and bathrooms!
Work description: Demolition, fabrication and installation of kitchen and bathroom countertops.  (plumbing reconnection not included)
Shelley Chisholm
Lacey, WA 98503
$6,700
Jessica
Setting up the appointments painless. Atlantic Tile and Granite (AT&G) contacted me the business day after I purchased my big deal and set up a time for one of their guys to come take measurements and show me samples. The turn around time for manufacturing was much quicker than I expected.  The install crew arrived several minutes before the schedule so they automatically get an A for punctuality. They removed my existing countertops and backsplash without making much of a mess and they cleaned up the mess they did make. The new countertops look gorgeous. I had to really look closely to spot the seam and I could only find it because I knew where to look.  The total cost was right at $5k including a new faucet and the plumbing work to hook it up.
Work description: Atlantic Tile and Granite installed new quartz kitchen coutertops, a matching shelf for my mantle, and a new kitchen sink.
Jessica Foxx
Auburn, WA 98002
$5,000
Heidi
We originally chose Atlantic partly because of their review history, and also because they do everything from start to finish–the demolition, the installation, the tiling, and the plumbing. They were one of the only, if not THE only, company we could find that literally did it all. And we knew from the beginning that's what we wanted. They promptly replied to our first e-mail contact and Nick came to our house with different Quartz options. We liked Nick immediately.  Very patient and sincere. Once we committed, Nick came back and made templates for our kitchen, which is a pretty amazing process, and they turned out to be unbelievably accurate. Then we went to the showroom in Kent to pick out a tile backsplash, sink, etc… Soon the appointment was made and they were here! Every Atlantic installation person/plumber that came to our house was neat, clean, polite, and punctual. They did exactly what they promised, and if anything overdelivered on service. We had one small plumbing leak after the plumbers left, and the next day they were back to fix the problem.  Nataliya at their main showroom is amazing. She responded without fail to all of our e-mails promptly and always answered our questions. I really can't say enough good things about this company! Even the plumber that came to fix our small leak raved about what a wonderful company they were to work with, for many of the same reasons we liked them. We love our new kitchen! And we would pick Atlantic over and over again.
Work description:They demolished our old 1994 laminate countertops and tile backsplash, and put in new Quartz countertops, a tile backsplash, and a new faucet.
Heidi Rodgers
Issaquah, WA 98027
$5,100
Kathy
The entire team was very professional and really, really good at their respective jobs and trades. For example, one person did a lot of the work from installing cabinetry to refinishing the floors. It was unbelievable that one person could do so many things with perfection. Also, the tile person laid each tile by hand, taking it off the mesh backing. The cuts and grout lines are perfect. Our kitchen was completely removed and rebuilt and looks fantastic. It has definitely changed the entire feel of our home. There were times when the schedule had minor slips for one reason or another, but we were patient because the quality of work was worth the wait. Overall, we are extremely happy with them and will be having them back to do more work on our home soon.
Kathy Peake
Fall City, WA 98024
$100,000
Kathryn
100% happy with how everything turned out. Fabulous experience with Rocky and the AT&G team. Rocky especially impressed me with his knowledge and creativity in turning our old, cramped kitchen into a spacious one. Whole team was polite and punctual, and cleaned up the place really well afterwards too. We're definitely going to get them to do our bathrooms next!
Work description: Cabinets, countertops, backsplash, plumbing, redesign
Kathryn Egan
Seattle, WA 98103
$20,000
Timothy
1)The quality of the final result exceeded my expectations. 2) There were no problems, no surprises.  3) They were punctual, courteous and careful.  Not a mark on our hardwood floors or anywhere else. 4) The initial price quote was the final bill.  5) The price was competitive (we had 3 bids).
Work description: Replacement of kitchen countertops, changing from tile to solid granite. Approx 80 square feet.
Timothy Lawler
Bellevue, WA 98007
$7,600
Edward
Very satisfied with this contractor. Had the best estimate by far. Excellent workmanship, just one minor mistake on backsplash. Punctual and professional.
Work description: Installed quartz countertops in kitchen.
Edward OBrien
Redmond, WA 98052
$6,300
Belinda
Installation went well, was done on time . We used the Angie's List Deal since the countertop we had already chosen was included in the offer. The Angie's list Deal provided a significant savings. They were prompt and responsive. We had approx 50 sq ft installed.  They do not have a showroom but do come to your home with samples.  My husband did the majority of the communication and I tended to have some difficulty with their accents.  All in all we would absolutely use then again.
Work description: Remove old countertop and install new Quartz countertop.  We have one seam in our new countertops which was blended in beautifully you cannot see it unless you go up close and look for it.  They also created a ledge for our pass through which has really put the final touch on the new kitchen.
Belinda Wong
Lakewood, WA 98499
$3,000
Stacy
I'd never used a contractor before and was nervous about everything. I'd also never had a good eye for design. Rocky came in, looked at my kitchen, and talked with me for about two hours about ideas, options, and details. He gave me design ideas he had photos and samples. We had recently tiled our floor and I was concerned that the cabinets/granite would clash, and he helped me work through that, much like a designer would. I truly appreciate that. It would have been very easy for him to be in/out of here in ten minutes, but he took the time with me that I needed to feel comfortable with what I was choosing.  He gave me cost cutting tips as well.  The whole process from start to finish took less than a month to complete and made minimal mess. We did not need to be here while they worked, which was helpful. Rocky checked in frequently to make sure it was the way that I wanted it to be and when small things went wrong (for example, my glass stove top broke), he took care of it immediately (I have a new stove top now).  He did trim work at the ceiling as an extra because I didn't like the way it looked as it was – from before.  He came after the job was finished to go over every detail, make sure I was happy with everything and he offered to help me with some drywall issue that really wasn't necessary. All in all, it was a great experience.
Work description: We had our kitchen remodeled, including granite counter tops, all cabinetry with hardware and trim, fixtures, sink, back splash, under-cabinet lighting and some plumbing/wiring. Trim
Stacy Neff
Renton, WA 98059
$18,000
Jackie
Atlantic Tile Granite in Kent helped us with our kitchen remodel. We wanted to keep our cabinets and floor tile, that were in excellent condition, so they helped us pick materials that would work well with what we had. They were professional and very helpful start to finish. We did granite countertops, tile backsplash, new appliances and sink, and also did new toilets and sinks in 2 bathrooms. We are extremely happy with everything, the job was done as scheduled. Be aware that they use subcontractors for a majority of the work, but all workers who came to our home were very experienced and excellent. Thank you!
Work description: Kitchen Remodel
Jackie Szarka
Auburn, WA 98092
$12,000
James
The staff was very helpful and friendly. The working crew was professional. The installation crew took the time to layout covering from our front door to the kitchen, so as not to damage our hardwood floors. They fully minimized the damage to our existing backslash so extra work was not required. The crew was quick and did a stellar installation. They even swept/cleaned out floors after moving appliances and completing the full job. Excellent service and menatality.
Work description: We had our countertops and sink replaced along with the installation of the tabletop to our island.
James Lee
Tukwila, WA 98168
$3,000
Deborah
We purchased a pre-paid package for quartz countertop from Atlantic Tile and Granite. It was our first purchase made this way.  Atlantic was prompt and Natalia called to set up an appt for Nick to come out.  He measured the area and calculated the SF accurately and provided us with a written quote for the total price including the extra SF we needed to completed the job. We were able to make our choice of color at that time, edge profile and choice of sink which was included. He describe the scope of the entire project, and made the templates for the project right then. The job was scheduled promptly. Three workers arrived on time in an Atlantic Tile truck with everything needed to complete the job. They removed the old formica countertops, sink and tile backsplash and hauled away all we didn't want to keep. They installed the beautiful, new high quality quartz countertop with the edge profile that we had selected, including a new stainless steel undermount single bowl sink and cut holes for faucet and cooktop to be re-installed. The installers did a masterful job. There are two seams in our kitchen which are literally undetectable.  I know they are there, but can't see or feel them. The bill for the balance came within a week of the completed project and I called Natalia with my credit card to pay the balance due.  She asked me right away how we were enjoying our new countertops. We are 100% delighted with the price, service, and installation. Atlantic has our trust and we would without a doubt use them again.  Atlantic does do the tile backsplashes also. We had planned to do our own tile backsplash all along so it was not part of this project.
Work description: Installed new quartz countertops in kitchen.
Deborah Graham
Gig Harbor, WA 98329
$3,500
Matthew
Excellent, we couldn't be happier with the finished product. They were very friendly and professional, plus they did a wonderful installation. Their prices seem very good, relative to other quotes, and we would use them again in a heartbeat.  Seriously great company!
Work description: Installed granite slab countertops and under-mount sinks for kitchen and powder room.
Matthew Skibbs
Bothell, WA 98011
$2,600
Astrid
It all went smoothly, Tomas and Demitri were on time, trust worthy, and take pride in their work. They also put in granite counter tops, new sinks, faucets (we supplied the hardware. We are completely satisfied with the price, and quality of their work. We would recommend them to anyone.
Work description: We bought a second coupon for a bathroom remodel after our positive experience with this company. We needed more than the coupon covered and we worked out an estimate for the extra work. They added a tile floor and redid the tile surrounding the tub and redid the shower completely.
Astrid Abbitt
Sammamish, WA 98074
$10,000
Dennis
Tomas was highly professional and extremely knowledgeable. When he saw our old bathrooms, he immediately knew what needed to be done even before we tried to explain it. He also had some ideas that we did not even think of, such as raising the ceiling in one bathroom and expanding the shower area in the other. He also was very honest and did not try to upsell anything else. He even told me that some of the things I had in mind were probably not worth it and saved us some money.  Our guest bathroom was in the worst shape, so we had to completely demolish everything. His crew arrived at our house promptly and completed the tear-down within a day. There was a miscommunication between me and my parents, so we did not have the parts that Tomas needed to keep remodeling the bathroom, so that delayed the process. However, I put the blame on me and not them because we were not ready when they came. This also messed up the subcontractor schedules, so make sure you have all the parts they ask for before they come! Tomas was, however, very patient and clearly explained everything we needed to get, so it worked out in the end. They were nice enough to put down plastic sheeting on the ground to keep the carpet from getting dirty while they were working. All the subcontractors were very skilled, professional, and pleasant.  Tomas was very accommodating, and he was generally available if I needed to get in touch with about something or had a question. He was very receptive to my parents' and my calls, and he always got back to me, even if it was almost 11pm!  The quality of the tile and the workmanship was excellent. They also know their tile, so if you are looking for a professional installation and consult, these are the guys to ask over the retail home improvement outlets.  After the first bathroom neared completion, they started work on the master bedroom. They installed these beautiful shampoo boxes into the wall in the shower area, which we really like. They also were kind enough to do extra work such as the plumbing and replacing the doors, etc. for a rate that was cheaper than if I hired other contractors to do it.  They also did a good job of cleanup after they were done, and also asked us to take a few days to make sure everything was up to our satisfaction or if anything else needed tweaking or fixing. I really appreciated that.  Overall, they are very reasonable priced for the quality work they do. Actually they were the 2nd least expensive bid we had, but their reputation was important to us, so we went with them. It was definitely worth it. Our bathrooms are gorgeous and are now updated from the 1970s to a more sleek modern look.  The entire process from the first day or construction to finishing took 2 months for 3 bathrooms, which is actually a lot faster than I expected for full tear-downs and renovations. So they are timely.  During the process, I recommend that you keep a line open to Tomas or whoever is in charge to keep abreast of the schedule and who and what is going to happen. There were a lot of moving parts to the renovation, but Tomas was able to keep us up-to-date on what is going on whenever we asked.  All in all, we are very pleased with Atlantic Tile  Granite and would definitely use them again if we need additional kitchen or bathroom renovations.
Work description: Atlantic Tile Granite renovated three of our bathrooms. They replaced the vinyl floors with tile and replaced essentially everything. It was a complete tear-down and reconstruction.
Dennis Lee
Mill Creek, WA 98012
$31,000
Erin
Our kitchen looks pretty cool now! There was a great deal that we purchased we ended up paying a bit extra because of the size of our kitchen and some extra requests. Had a few meetings with Nick to talk about what we wanted and for template measurements. About a month later the crew was able to come out and do the job. The countertops look *great* – we're really pleased with the work.
Work description: Removed our old countertops, replaced with new granite countertops and added backsplash.
Erin Middendorf
Lake Forest Park, WA 98155
$3,200
Christopher
I have had difficulty even getting return calls from other contractors, probably due to the relatively small size of this job. Nick responded to my first email, met me the same day, and had my job written up and completely scheduled that day. It took 4 appointments (1 to install the cabinet, 2 measure for the counter, 3 install counter and sink, 4 install faucet and connect to plumbing). It sounded like a lot, but he was actually able to work ahead of the schedule, and his guys always arrived when he said they would and accomplished everything they came to do. Of the several emails we exchanged during the process, Nick always responded quickly. I got great service, a gorgeous product, and a fair price. I am completely satisfied and would go back to these guys in a minute!
Work description: Provided and installed granite counter and sink. Installed bathroom vanity and faucet (purchased elsewhere). Demo and removed old sink/counter/vanity.
Christopher Lommen
Auburn, WA 98002
$1,500
Cathy
We obtained bids from several vendors before selecting ATG, who we ultimately chose due to the positive reviews coupled with their competitive pricing. The remodel included our master bathroom, kid?s bathroom and guest bathroom, which took 6 weeks to complete plus about 2 weeks of post-remodel follow up fixes and touch ups. What went well:They actually responded when I called for a bid. I called multiple companies and ATG was the quickest to respond.(I had one company call me 2 months after my initial call).  Rocky provided the bid. He showed up on time and spent about an hour to understand what we needed, explained options, measured, gave us ballpark figures and provided high level time frames. He was informative and answered all our questions.  Nataliya was incredibly helpful and took the time to help us understand the bid once we received it. We researched the design and color palettes prior to setting up time to meet with Nataliya, who patiently helped with the many selections for tile, granite, cabinet and sink combinations. We spent an entire afternoon going through all the selections and coordinating for  different bathrooms. Even though we had a design in mind, coming up with the tile and granite combinations got a little overwhelming and I learned a lot in the process. (On a side note, learning which tiles have a bullnose cut was  important since we wanted rounded edges for the baseboards and shower trims. It limited some of the selections because not every tile style had a bullnose available). I truly appreciated the time she took to go through the selections and explain the various options.   It was nice to have the granite, tile, and cabinet samples are all located in the warehouse. This saved us a significant  amount of time, preventing us from having to various shops and coordinating with multiple suppliers. ATG is a one stop shop with a large selection of tile and granite with Nataliya coordinating all the orders.     Billing: what we were quoted is what we paid. There were no surprises and any changes were items incurred by us. (We added the kid?s bathtub/shower and tiling a few weeks into the project.) The granite, tile, sinks and vanities were all included in the bid. I compared it with the other bids obtained which only provided labor and foundational materials – ATG?s was the most competitive. The only area we outsourced ourselves was painting given that the sub-contractor charged quite a hefty fee.    The crew: the tile, granite and cabinet installers were all tenured ATG employees ? this was beneficial for continuity and consistency of the work. The plumbers and electrician were sub-contracted who ATG has solid relationships with, helping ensure quality of workmanship and expediting any issues we encountered along the way.  They covered our floors with plastic and cleaned up daily. The tile cutter and majority of supplies were in the garage during the process and when they were complete, our garage was cleaner than when they started! This was a bit of a bonus.   Last but not least, I could not sing enough praises about Thomas! He was to the entire remodel and ensured things went  as smoothly as possible. Again, given that this was our first remodel, I had many questions and concerns along the way ? often times what seemed like a major issue ended up being easily remedied. Thomas was always responsive and never treated any of my questions as trivial. Because the primary crew were his employees, he was able to get commitment on anything that potentially impeded progress. In addition, it was clear he had solid partnerships with the sub-contractors, who also responded quickly to remedy any bumps we encountered. Despite the fact that he was coordinating multiple remodels at once (with no Project Manager to help), he always responded and gave me the heads-up if he was going to be away. Here are some examples of how he provided superior customer service. Examples of superior customer service:We encountered an issue with bad grout in 2 of the bathrooms which turned multi-colored after drying (different shades of white, pink, beige and black when it was supposed to be beige). Thomas thoroughly researched, kept me engaged in the process and determined that that it was caused by a bad batch of grout. We discussed various options to correct and in the end, he recommended re-grouting with a new batch or grout from an entirely different manufacturer. I don?t think the installer was too happy about having to re-grout 2 bathrooms, but it was the right thing to do so Thomas instructed the  installer to re-do it.  He noticed that one of the granite back splashes in the guest bath was uneven and had his crew re-do the area. Another  time, there was a scratch in one of the vanity panels, so he had the entire panel replaced the next day.  Post-completion, one of the light bulbs in a fixture broke, with the light bulb base melting into the fixture itself.  Thomas tried to fix it himself but it was stuck, so he had the electrician come out later in the week. The other issue we encountered was in the main bathroom shower which was making loud drumming sounds in the wall. In addition, only a few of the spouts from the rain shower  were actually working.  He called the plumbers to come out and diagnose. After several hours of troubleshooting, they determined  that the root cause was a flow restrictor in the shower head and fixed it on the spot.  The only cons are aesthetics related. Some of the tiles in our master bath have strange marks that look like dirt-like ?stains? which I learned were part of how they were manufactured. I?m not sure why they were installed since it doesn?t match the rest of the color palette, but fortunately it?s slight enough that it?s not too noticeable.  Post-remodel, the grout in one of the shower corners cracked but instead of re-grouting it was caulked over. We?ll get this re-grouted and re-caulked in the future since the remedy works for now. Overall however, the tile work was very good. Other than these few ?hiccups?, the experience was fairly positive. We LOVE our remodeled bathrooms!
Work description:  Remodeled 3 bathrooms. Complete demo of the master and kid's bathrooms.Demo of guest bathroom floor and sink/vanity (we retained the original shower).  Master bathroom: installed new tub and built tub deckwith tile, expanded old shower area with new water proofed tiled shower, installed new tile floors, granite counter tops, toilet, vanities, sinks, light fixtures and 2 fans  Kids bathroom: installed new shower/tub, tiled the tub/shower area, installed tile floors, granite counter tops, vanities, sinks, toilets, 2 fans  Guest bathroom: installed new tile floors, granite counter top, vanity and sink.
Cathy Dino
Sammamish, WA 98075
$34,000
William
They arrived exactly at the date and time promised to start the demolition of our master bath. A miracle! Most contractors are always late.  They had excellent professionals. Expert plumbers, electricians and tile setters arrived one behind the other to do their parts. Someone was here everyday for two weeks until completed.  These folks are true professionals. They never tried to up-sell us after we picked out our granite and tile. They never changed their original price estimate even though they ran into a couple problems that delayed them a bit, and caused them to come back a couple times. No extra charges.
Work description: Master Bathroom remodel. His quote did not include items purchased by us, i.e.; Tub, toilet, sinks, faucets/hardware, light fixtures paint. Their estimate was labor and materials for tile, granite, plumbing electrical installations.
William Johnson
Maple Valley, WA 98038
$9,500

Play


Play


Play


Play


Play

Previous
Next